2021.02.14
Open Call! Artwork Proposals for Town and Park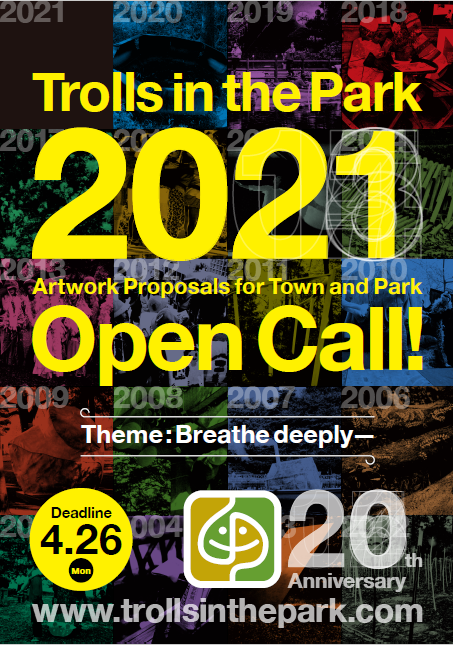 Trolls in the Park 2021

Application deadline
Applications must arrive no later than April 26 (Mon), 2021

For further information:http://www.trollsinthepark.com/application/

【Purpose of Open Call】

Trolls in the Park is an international open-air art exhibition that has been held in Metropolitan Zenpukuji Park in Suginami-ku since 2002 under the theme of "encountering art in daily life" rather than in a museum. Since 2013, the event has expanded from Zenpukuji Park into the surrounding neighborhood and JR Nishiogikubo Station area, while also developing a range of expressive forms that include installation, performance and projects that uncover the history of the local area.
2021 marks the 20th anniversary of Trolls in the Park. From installations that encourage new ways of perceiving the natural park setting and charming urban spaces of Nishiogikubo; to poetry, music and dance performances that embrace nature and encourage residents and passersby to join in the events under the vast sky; to workshops, exhibitions and plays in elementary schools that echo with the voices of children—we look forward to receiving proposals for artworks and projects that transcend existing genres.
【Theme】Breathe deeply— 

Breathe deeply, releasing tension. Drive away the fog that clouds your mind. Clear your head. Discern your feelings. And make a new start.
At a time when people are turning inwards due to covid-19, we want art to provide a moment to inhale deeply, arousing sympathy between what is within and what is outside, and allowing us to capture the vitality of the world. Art encourages us to look deep within ourselves.
We are looking forward to seeing artworks that breath with the spirit of their creator, made with clarity of mind.

【Call for Artworks】

Outdoor
A. Site-specific work in Metropolitan Zenpukuji Park (installation, sculpture, architecture, etc.)
B. Performance work in Metropolitan Zenpukuji Park (performance, theater, dance, pantomime, music, etc.)

Town area
C. Site-specific/Performance work and projects in shops, galleries and on streets of the Nishi-Ogikubo and Zenpukuji area
D. Site-specific/Performance work, workshops, and other creative proposals that utilize the Momoi Daishi Elementary school (school building and playground)

※A combination of any of the above is also possible

【About the Exhibition】

Name: Trolls in the Park 2021 Contemporary Art Exhibition
Organizers: Trolls in the Park Organizing Committee
Venues: Metropolitan Zenpukuji Park (vicinity of the upper pond) ((Tokyo, Suginami Ward, Zenpukuji 3-chome))
*Metropolitan Zenpukuji Park is a public park open to the public 24 hours a day (free admission).
MOMOI Daishi Elementary School, Nishi-Ogikubo area
Date: November 3 (Wed/Public holiday) – 23 (Tue/Public holiday), 2021